CAR brands have been racing to roll out their electric vehicles (EVs) for the local market since the incentives under Budget 2022 were announced late last year.
The industry norm is to introduce a fully-imported model first to gauge market response and acceptance before starting a locally-assembled version later.
Volvo Car Malaysia bucked the trend and took charge last week by launching its locally-assembled XC40 Recharge Pure Electric without going through the fully-imported route.
Aside from being the first brand to offer a locally assembled EV, Volvo is also turning Malaysia into its EV production hub for the Asean region with line-ups of right- and left-hand drive models.
Sharing the same underpinnings with the conventional XC40 sports utility vehicle, the electric XC40 is stylish and comes with LED head and tail lights, 'Thor's hammer' daytime running lights, and roof with wing mirrors in gloss black.
However, the electric XC40 gets a close-off front grille and does not have exhaust pipes.
Inside, an aluminium decor styling with dark leather/nubuck combination upholstery serves up a luxurious and sporty ambiance.
Taking centre stage is an Android-powered infotainment system with a 9-inch touchscreen that offers access to Google Maps, Google Assistant and Google Play Store, while the instrument panel is also an electronic screen type.
Powering the EV are two electric motors, one each at the front and rear axles, that deliver a combined output of 408hp (300kW) and 660Nm of torque for an all-wheel drive capability.
The electric XC40 can sprint from 0-100kph in 4.9 seconds and towards a top speed of 180kph, making it the quickest EV of its segment.
It uses a 400V system and the lithium-ion battery comes with a capacity of 78kWh of which 75kWh is usable.
The high-voltage battery is charged through a CCS 2 port and promises a driving range up to 418km on a single charge.
An 11kW AC charger can top up the battery from 0 to 100% in around seven hours, while a 150kW DC-type will power up from 10% to 80% in 33 minutes.
Wheels are the alloy type and 19-inch Pirelli P Zero Elect tyres, specially made for electric vehicles, are used with 235/50 size for front wheels and 255/45 size at the rear.
Meanwhile, the electric XC40's Advanced Driver Assistance System has been upgraded over those used in the petrol and plug-in-hybrid electric vehicle (PHEV) variants.
Detection devices include a front-looking radar with two rear side radars, one front-looking camera with four 360-degree around view cameras and 12 ultrasonic proximity sensors.
Key smart features include active cruise control, City Safety, blind spot information system, lane keeping aid and cross traffic alert among others.
Also included are airbags, anti-lock braking system and electronic stability control.
The electric XC40 also comes with a wireless charging pad for smartphones, Harman Kardon sound system, rear air conditioner vents and handsfree rear power tailgate.
Aside from a 414-litre trunk, the electric XC40 also comes with a 31-litre frunk (front trunk).
Compared with the regular XC40, the electric XC40 does not have a push-start button.
Just get inside with the key fob and the EV "wakes up."
Stepping on the brake pedal and setting the gear shift to D are all that needed to get the electric XC40 moving.
Its massive amount of instant torque rockets the electric XC40 forward with a near whiplash-inducing takeoff if the accelerator is slammed down.
Unlike vehicles with internal combustion engine that break off power momentarily for gear upshifts, the acceleration rush of the electric XC40 is one continuous smooth surge.
Except for some tyre noises when driven on coarse surfaces, the electric XC40 runs quietly without any hints of harshness even when at high speeds.
Despite its small size, the electric XC40 comes with a heavy battery pack and the vehicle tips the scales over two tonnes.
Although ride comfort is good, we could feel the weight of the electric XC40 pushing downwards especially when driving fast on undulating stretches.
The battery pack located below the floor also lowered the EV's centre of gravity for reduced body roll when we drove the EV on windy stretches towards Gohtong Jaya.
Also available is the one-pedal drive mode where the driver can slow down the vehicle by easing off the accelerator to trigger more aggressive regenerative braking so normal braking is not required.
However, this mode requires some practice to get the ideal pedal control as lifting off too quickly may cause the EV to slow down abruptly and spoil an otherwise smooth drive.
The electric steering is effortless and nicely weighted for quick response although it can be set to be firmer for more feel.
In our one-day drive from Shah Alam to Gohtong Jaya back covering some 200km which includes high-speed driving and hill runs, we used up 59% of the battery charge which is still acceptable.
We probably would have used less energy if we drove more conscientiously as well as not let the electric XC40 idle too long with the air-conditioner running at full blast during video shooting and photography.  
The electric XC40 amps up the notion that electromobility for daily commutes and interstate drives is practical, more so with new fast charging stations being set up nationwide.
Standard warranty is five years with unlimited mileage and the battery has a separate warranty of eight years and a mileage cap of 160,000km.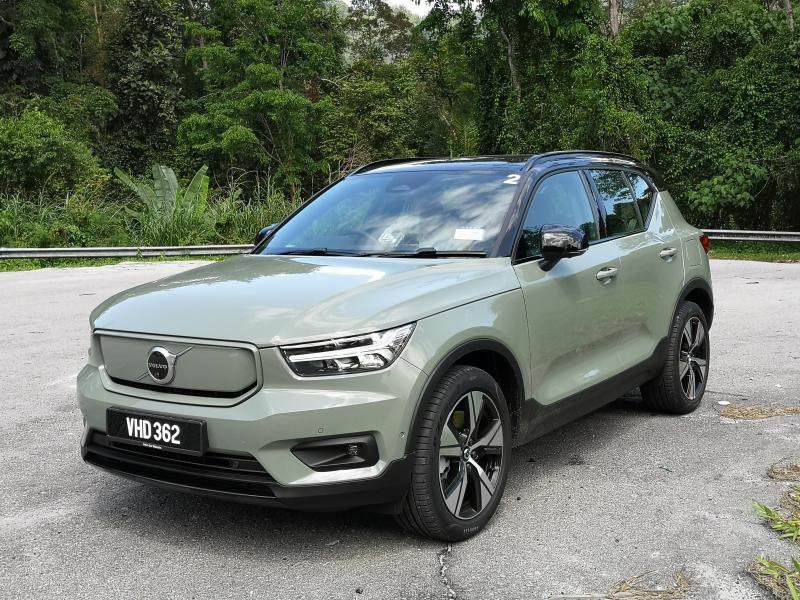 The price of the electric XC40 will be announced on April 4 where it will be available in Volvo showrooms nationwide as well as for online purchase.