LOS ANGELES: The new Hyundai Santa Fe, showcasing its "Open for More" development concept, made its US debut at AutoMobility LA.
The concept centres around the vehicle's wider liftgate opening and spacious interior, which connects the interior with the outside environment.
The liftgate area now serves as a terrace-like space for passengers to enjoy the outdoor surroundings.
Hyundai Motor Manufacturing, LLC (HMMA) has invested US$190 million in tooling and equipment upgrades to prepare for production of the fifth-generation Santa Fe, which made its world premiere in August.
The 2024 Santa Fe 2.5T model will go on sale in March 2024, followed by the Hybrid model in the spring.
The new Santa Fe features a longer wheelbase and larger liftgate opening, providing a generous living space and standard third-row seating without compromising roominess.
The exterior design reflects a growing outdoor lifestyle trend, with a confident road presence and strong yet delicately crafted design cues. The front view is bold and distinctive, with an elevated hood line, H-shaped headlamp signature, and precision-detailed fenders.
The rear features a wider liftgate opening and H-shaped taillamps, conveying stability and simplicity.
Inside, the Santa Fe emphasises horizontal and vertical design elements, creating a sense of openness and cohesive design balance.
The interior offers convenience features such as a UV-C sterilization compartment and a dual wireless charging system for smartphones.
The SUV also features a panoramic curved display that encompasses the digital gauge cluster and infotainment system.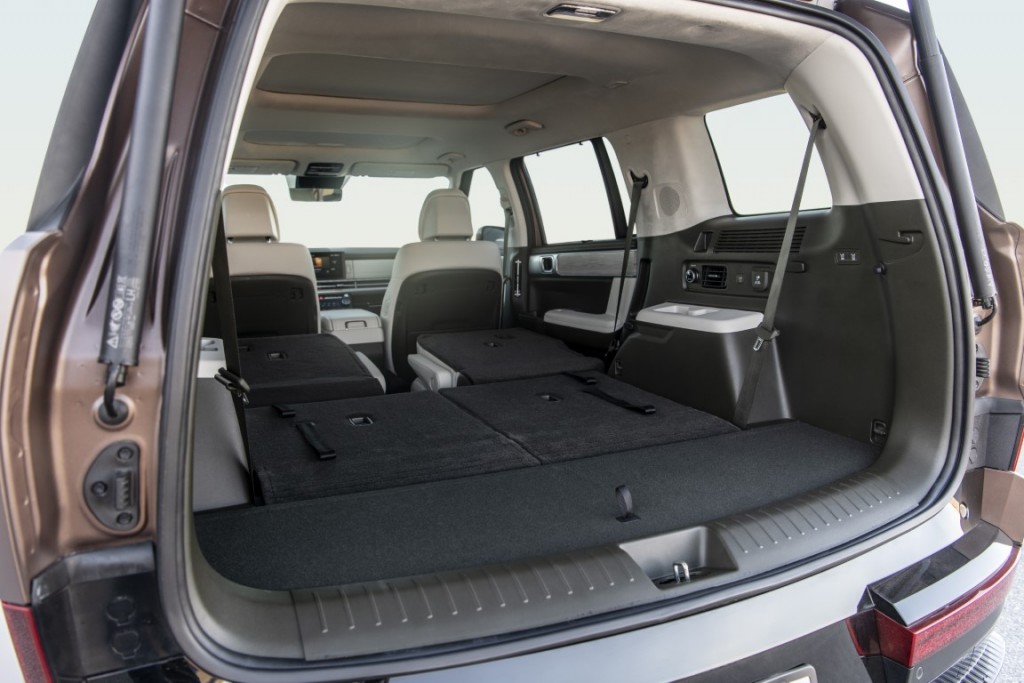 The longer wheelbase allows for superior interior space, and the fully foldable second- and third-row seats create a terrace-like space at the rear liftgate opening.
The Santa Fe is designed with practicality in mind, offering impressive cargo capacity and easy roof storage access.
It prioritises living space by increasing second- and third-row legroom.
Premium features enhance comfort and convenience, including a Relaxation Comfort seat with a leg rest, power-reclining captain's chairs in the six-passenger model, and a bilateral, multi-console storage space.
The Santa Fe also offers advanced safety features such as Forward Collision-Avoidance Assist, Lane Following Assist, and Radar-based Rear Occupant Alert.
The SUV is available with two powertrain options, offering both power and fuel efficiency.
The standard powertrain is a 2.5-litre turbocharged engine with an estimated output of 277hp and 229Nm of torque. For eco-conscious buyers, there is a 1.6-litre hybrid engine with an estimated combined output of 232hp and 200Nm of torque.
Hyundai has also introduced the new XRT version, designed for outdoor enthusiasts.
The XRT features dark chrome and black trim elements, as well as cladding throughout the exterior. It also includes black roof rails with cross bars and a 30-inch all-terrain tyre fitment.
The XRT offers nearly 1.5 inches of additional ground clearance and has a towing capacity of 2,041kg when equipped with the towing package.