STUTTGART: Porsche has opened its eighth Porsche Experience Centre (PEC) worldwide in Franciacorta, Italy.
The new brand experience venue covers 60 hectares and includes the Autodromo di Franciacorta handling circuit.
The new PEC in Franciacorta is located in Castrezzato (Brescia), a scenic area of northern Italy.
The location is not only appealing because of its proximity to Lake Iseo and the airports of Milan, Bergamo and Verona but also because the vineyards in the surrounding area have made the Franciacorta name world famous.
The new Porsche Experience Center consists of two main areas: the customer centre and the drivers' paddock. The customer centre has a futuristic appearance and an eye-catching curved structure.
It covers an area of around 5,600 square metres and includes a central space, or agora, from which various areas can be accessed: training rooms, a showroom for picking up vehicles, a panoramic restaurant and bar overlooking the handling circuit, a shop and an area for children.
There is also a business centre with a meeting room. The paddock, with its 29 garages, is dedicated to motorsport events, such as the Porsche Carrera Cup Italia.
The heart of PEC Franciacorta is its handling circuit, which has three different training areas. The 2.5-kilometre, highly technical main circuit has a variety of corners and chicanes that are suited for fine-tuning driving skills.
A low-friction handling circuit made of polished concrete allows Porsche drivers to practise in extremely slippery conditions. On the low-friction circle, controlled oversteer can be perfected with the ideal combination of throttle and steering on wet, polished concrete.
The cars' braking-system efficiency and their stability during emergency manoeuvres can be experienced in the dynamic area.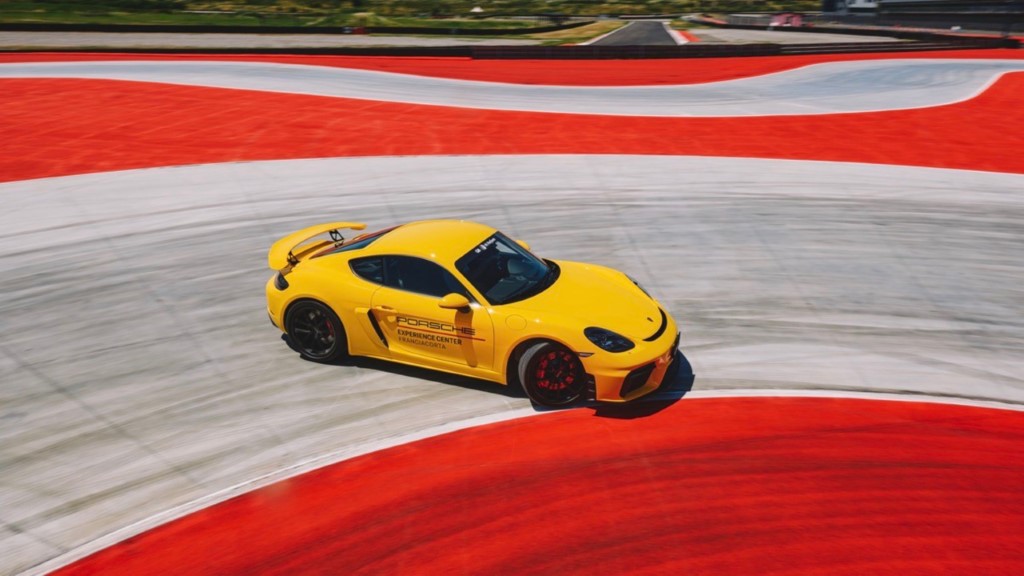 An off-road course with ramps, curves and a gravel track allows drivers to experience the off-road performance of the Cayenne and Macan SUVs.
Vehicles with driving aids are available for people with disabilities. Franciacorta also boasts a simulation lab for virtual reality and esports, equipped with eight latest-generation simulators and an e-kart track. A training centre from Porsche Italia for training dealers will also be completed by the end of the year.
In addition to Franciacorta, there are PECs in Leipzig, Silverstone, Atlanta, Le Mans, Los Angeles and Shanghai, and, since October 2019, at Germany's Hockenheimring. A further PEC is set to open in Tokyo in October this year.