LOS ANGELES: Evasive Motorsports has built its own interpretations of the iconic Honda S2000, creating the resto-mod S2000R plus a heavily modified S2000RS, which will compete in the 2023 Pikes Peak International Hill Climb.
Honda's Type R series of sports cars gained legendary status almost immediately each was introduced: the Integra, Civic, NSX, and even Accord have a Type R variant, and are sought after by collectors worldwide for their incredible factory performance. Yet there's one model that was never released as a Type R; the S2000. Until now!
Evasive Motorsports has created its own interpretation of what the S2000 Type R "should've been" with its S2000R resto-mod. "The S2000 is one of the best driver's cars ever produced," said Mike Chang, Co-President of Evasive Motorsports. "With 20 years of experience tuning the platform for road and race, we had a vision to modernize the roadster and create our ideal version of what an S2000 Type R could be."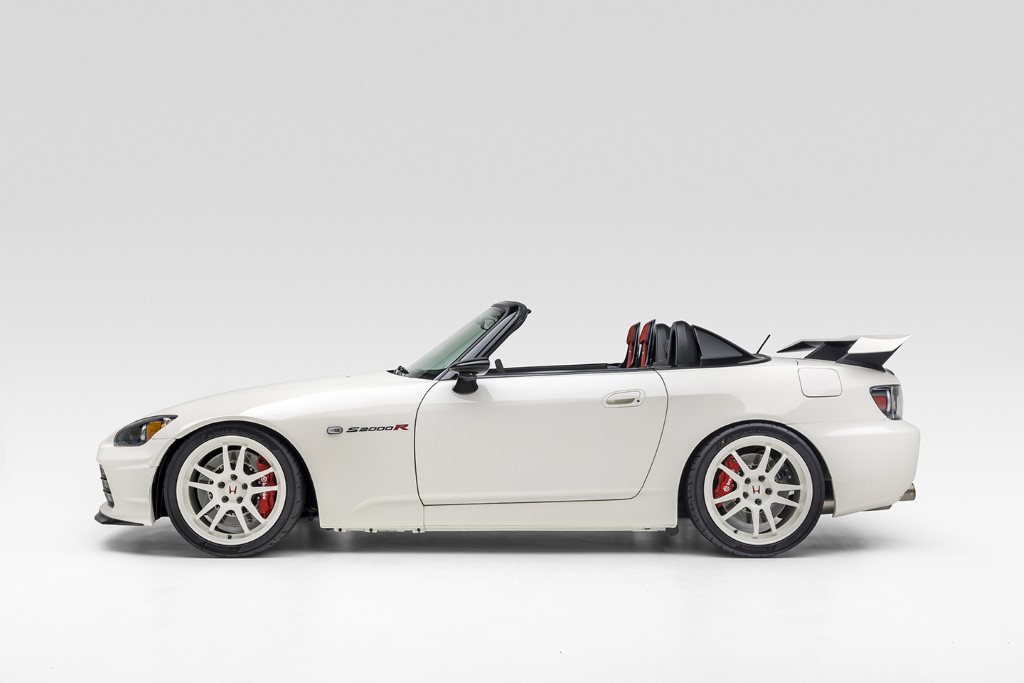 SPECIFICATIONEVASIVE MOTORSPORTS S2000REngine:
Honda FK8 Civic Type R K20C1 two-liter turbocharged with MoTeC M140 ECU engine management, Mugen carbon fiber intake, Evasive S2000R intake manifold, exhaust downpipe, titanium dual exhaust system by Origin Fab, EVS Tuning oil cooler, Koyo Racing radiator. ENEOS 0W-20 Racing Motor Oil is recommended for the S2000R
Transmission:
Honda S2000 six-speed manual, Evasive Motorsports S2000R custom bellhousing adapter plate and custom-spec OS Giken limited-slip differential, EVS Tuning high-capacity differential housing
Chassis:
Evasive S2000R custom-spec KW Clubsport coilovers, track-tested bushings, and chassis brace, EVS Tuning bump steer kit and camber joints, Eibach sway bars front and rear
Brakes:
Brembo six-piston front calipers with 14" rotors, four-piston rear calipers with 12.9" rotors, custom Evasive handbrake conversion
Wheels & Tires:
18x9" EVS Tuning 52R forged wheels, 255/35 R18 Yokohama AD09 tires
Exterior:
Honda 20th Anniversary Edition S2000 front bumper, Evasive Motorsports S2000R carbon fiber front lip, wide front fenders with bumper extensions, carbon fiber rear wing, Spoon aero mirrors, carbon fiber tonneau cover, dry carbon fiber hood and trunk lid. Chassis 000 finished in Honda NH-0 Championship White
Interior:
Recaro Podium carbon fiber seats, EVS Tuning carbon fiber door cards, Alcantara dashboard and trim pieces
Comparing the Evasive S2000R to a standard model, it features modern accouterments such as the 306hp FK8 Honda Civic Type R K20C1 two-liter turbo engine conversion, updated exterior aero styling, suspension/chassis reinforcements, as well as various carbon fiber body and titanium engine components to help reduce overall weight to further assist performance and handling.
Evasive selected the K20C1 as a modern replacement for the F20, offering factory turbocharged reliability with superb power, torque and responsiveness. But they didn't simply drop in a stock engine and call it a day; it's upgraded with a carbon fiber Mugen air intake, Evasive S2000R intake manifold, exhaust downpipe and titanium dual exhaust system (by Origin Fab). Engine output was finely calibrated with a MoTeC M140 ECU, which is linked to a MoTeC C127 display that replaces the factory gauge cluster.
An EVS Tuning oil cooler and Koyo Racing radiator help keep engine temps optimal, while ENEOS 0W-20 Racing Motor Oil is recommended to protect the high-performance drivetrain. A custom S2000R adapter plate allows the K20C1 to sync with the S2000 six-speed transmission, while a S2000R-spec OS Giken limited-slip differential ensures the 300whp gets down to the ground.
EVASIVE MOTORSPORTS / ENEOS OIL HONDA S2000RS2023 PIKES PEAK INTERNATIONAL HILL CLIMB CHALLENGER
Joining the debut of the Evasive S2000R is its race sibling, the Evasive Motorsports / ENEOS Oil Honda S2000RS; a time attack race car campaigned during the 2022 season and rebuilt to tackle the 2023 Pikes Peak International Hill Climb.
Entered in the Open Class, Pikes Peak class winner Dai Yoshihara will again pilot it to the famous Race To The Clouds. After successfully completing the hill climb in a Toyota 86 and Tesla Model 3 for Evasive, the team decided to focus its expertise on their favorite Honda chassis, with the aim of claiming another class victory.
The heavily modified Evasive Motorsports / ENEOS Oil Honda S2000RS, which provided some of the inspiration for the S2000R, is pure business. It began life as a 2004 production model that was stripped to the bare necessities, rebuilt using top components developed by the Evasive R&D division and in collaboration with Japan's elite Honda tuning shops.
Under the hood is the S2000 F20 four-cylinder motor, stroked to 2.4-liters with a 12.5:1 high-compression Toda Racing stroker kit utilizing 87.5mm pistons, I-beam chrome molly fully floating connecting rods, and a 99mm dynamically balanced crankshaft. Topped by a big-valve Toda cylinder head with sports camshafts, the F20 was fitted with an HKS GT6290 ball-bearing turbocharger that helped to develop 650hp to the wheels.
Exhaust gas is expelled through an Origin Fab exhaust manifold into an EVS Tuning side-exit exhaust. Air is ingested through a Bosch throttle body into a RZCrew billet intake manifold. Like the S2000R, ENEOS Racing 0W-50 high-performance synthetic lubricants provide superior performance at higher temperatures while protecting critical engine components.
The transmission has been upgraded to an OS Giken OS-7 sequential unit with a Hollinger pneumatic shifter kit. An IP 8.8 differential kit with OS Giken limited-slip diff internals help to maximize cornering traction.
SPECIFICATIONEVASIVE MOTORSPORTS / ENEOS OIL HONDA S2000RSEngine:
F20 four-cylinder, stroked to 2.4-liters with 12.5:1 high-compression Toda Racing stroker kit utilizing 87.5mm pistons, I-beam chrome molly, fully floating connecting rods and bearings, 99mm dynamically balanced crankshaft, big-valve Toda cylinder head with uprated springs, Beryllium seats and Toda camshafts, HKS GT6290 ball-bearing turbocharger, MoTeC M150 engine management, Origin Fab exhaust manifold, EVS Tuning side-exit exhaust, Bosch throttle body, RZCrew billet intake manifold, ENEOS Racing 0W-50 high-performance synthetic motor oil
Transmission:
OS Giken OS-7 sequential unit, Hollinger pneumatic shifter kit, IP 8.8 differential kit with OS Giken limited-slip diff internals
Chassis:
KW three-way dampers, Wisefab spherical arms, AST air jack system
Brakes:
StopTech six-piston front calipers and 14" rotors, BBK four-piston rear calipers and 12.9" rotors, CSG brake pads, Bosch Motorsports ABS
Wheels & Tires:
18x11" Titan 7 T-P5 forged racing wheels, 280/650R18 Yokohama A005 racing slicks
Exterior:
Voltex Circuit Version 3 aero body kit, high-downforce front splitter and rear wing, Mugen carbon fiber hardtop
Interior:
MoTeC C127 dashboard display and Power Distribution Module, Bride seats, Sparco harnesses