KUALA LUMPUR: The open-top Ferrari 812 GTS has arrived in Malaysia, priced from RM1.538 million (before duties, customisation options, taxes and insurance).
It is Ferrari's most powerful production convertible, and sports a retractable hard top which opens in just 14 seconds at speeds of up to 45kph.
The 812 GTS is the most powerful car in its class, with a naturally-aspirated front-mounted 6.5-litre V12 engine producing 788hp at 8,500rpm and 718Nm of torque at 7,000rpm and this is mated to a 7-speed dual-clutch gearbox.
Performance levels are very close to those of the sports coupe, with 0-100kph acceleration in under 3 seconds and 0-200kph in just 8.3 seconds, and top speed at 340kph.
It comes with an electric power steering which is integrated with sophisticated electronic vehicle dynamics controls, including Version 5.0 of Ferrari's patented SSC (side slip angle control).
High performance driver assistance features also include Ferrari Peak Performance (FPP) and Ferrari Power Oversteer (FPO).
FFP technology helps during cornering, as the steering wheel torque will provide the driver with an indication that the car is getting closer to its limit of grip.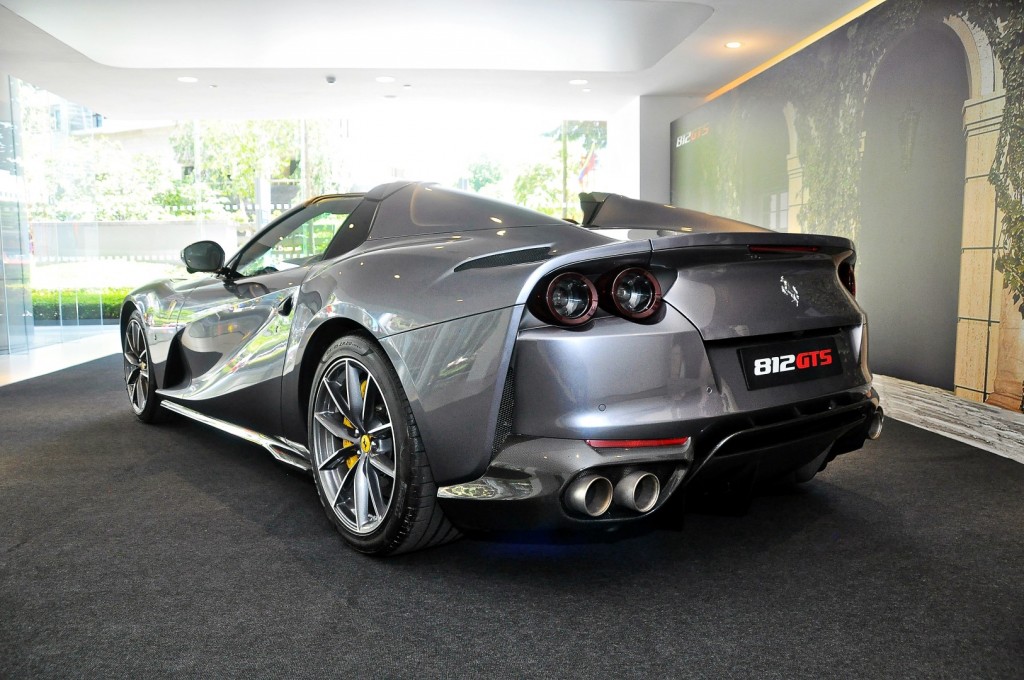 As for FPO, in the case of oversteer, most frequently induced while powering out of corners, the steering wheel torque will give the driver feedback to give steering wheel inputs that are coherent with realigning the car correctly.
Designed by the Ferrari Styling Centre and based on the 812 Superfast, the 812 GTS echoes the formal language and proportions of Ferrari's front-engined V12.
From the side view, the 812 GTS has a fastback sleekness: a two-box design with a high tail reminiscent of the glorious 365 GTB4 (Daytona) of 1968.
"The 812 GTS breathes new life into the range, as the first of its kind in five decades. An impressive open-top version of the flagship 812 Superfast, it is a purebred performer that certainly upholds the shining legacy of its predecessors. We are absolutely thrilled to be able to present this highly-anticipated roaring beauty to our discerning clientele," said Datuk Nik Hamdam Nik Hassan, group CEO, automotive group, Naza Corp Holdings Sdn Bhd.
The after-sales package includes a seven-year maintenance programme that is available across the entire Ferrari range, and also to owners buying pre-owned Ferraris.
Regular maintenance (at intervals of either 20,000 km or once a year with no mileage restrictions), original spares and meticulous checks by staff trained directly at the Ferrari Training Centre in Maranello using the most modern diagnostic tools are just some of the advantages.