PETALING JAYA: The new Proton Saga is launched today sporting  improved features, safety and quality in a refreshed design.
The Saga lineup is now expanded to four variants instead of three: the 1.3L Standard MT, 1.3L Standard AT, 1.3L Premium AT and a new 1.3L Premium S AT. Prices have also increased.
The variants are priced respectively at RM34,400 (+RM1,600), RM38,300 (+RM2,500), RM41,300 (+RM1,500)  and RM44,300. All prices are on-the-road excluding insurance and are valid until June 30, 2022.
The 2022 Saga is powered by the same engine as before - a 1.3 litre four-cylinder 16-valve DOHC VVT mill with a maximum output of 94hp at 5,750 rpm and 120Nm of torque at 4,000 rpm paired to a 5-speed manual transmission or 4-speed automatic transmission.
Proton's entry-level sedan gets the new round tigerhead logo as well as red strip on the new front grille ala X50 in the top Premium S.
The updated model also offers upgraded features both inside and out as well as improved fuel
efficiency with the help of features such as an ECO Drive Assist indicator to highlight how efficiently it is being driven.
The 2022 Saga offers significant enhancements that raises the bar in its class and provides greater appeal to younger, first-time buyers as well as those looking for an A-segment sedan.

To add a fresh touch to the Saga's familiar and distinctive form, the new model comes with bold new front and side skirts offering a sporty feel complimented by new 15-inch alloy wheels and LED daytime running lamps.
Inside, the new Premium S variant features a sporty dark colour scheme, redesigned semi-leatherette seats for a touch of elegance, and new carpet mats with red edging.
The steering wheel, which comes with tilt adjustment builds on the theme, and is wrapped in leatherette for improved comfort, with red finishing on the steering switches.
This is supplemented by meter combination rings and air outlets carrying the same flash of red while the finishing touch is provided by redesigned climate control switches that are paired to the N95 Cabin Filter to filter out smoke particulates, dust, bacteria and other pollutants.
Improved convenience features include intelligent entry and door mirrors that automatically unfold when unlocking the car.
A new push start button makes it easier to start the engine while a remote trunk release on the key fob ensures easier to access the boot.
With 420-litres of boot space, luggage capacity is generous, and can be expanded by using the rear seat fold function to transport oversized items.
Other touches further improve the driving experience.
The 7-inch touchscreen head unit now has the latest operating software and Bluetooth 4.2 for better wireless connectivity. It also pairs seamlessly with Android and iOS smartphones, allowing drivers to access their favourite apps while on the move.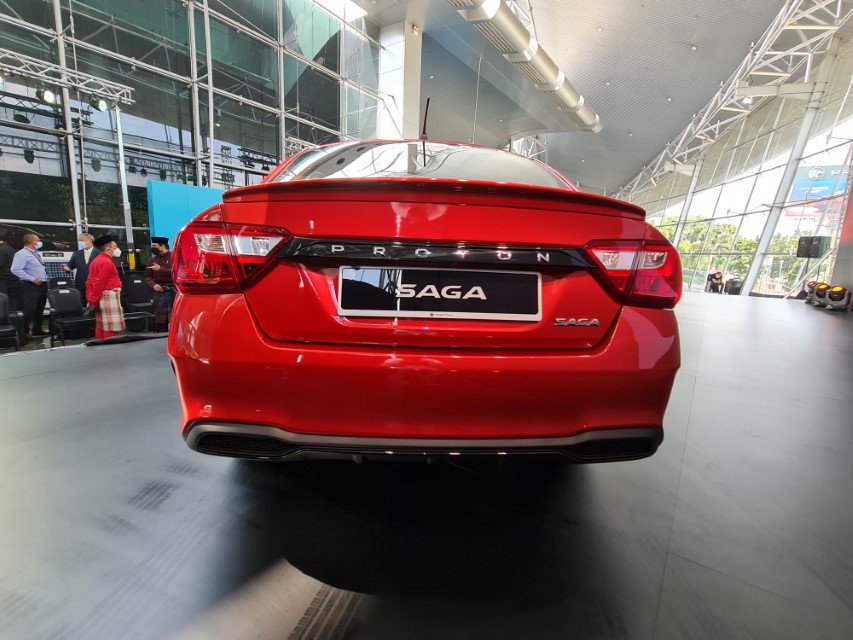 Switches located on the steering wheel allow for easy access to change audio settings and answer calls while driving, and three conveniently located USB ports make it easy to charge electronic devices.
Finally, a friendly reminder appears on the monitor once the engine is switched off, telling owners to check they have all their belongings and haven't left their children behind.
The 2022 Saga offers a raft of safety features for greater peace of mind.
For a start, two SRS airbags are standard across all variants together with Anti-Lock Brakes (ABS), Electronic Brake Distribution (EBD) and Brake Assist (BA).
All automatic transmission variants are also equipped with Electronic Stability Control (ESC) with Traction Control System (TCS) to help maintain control in slippery road conditions, while the Hill Hold Assist (HHA) feature allows driver to confidently move off without worrying about slipping backwards on a slope. A  reverse camera paired to front and rear parking sensors makes it easier to perform parking manoeuvres in tight spaces.
A total of 123,512 units of the third-generation Saga has been sold since Aug 2019 - when the first facelift was carried out - up until last month.
Along the way, Proton had made running changes to improve the Saga.
For example, new tyres have been fitted to the Saga to increase grip and reduce road noise. Damping rates have been retuned to improve ride comfort and handling.
The new Saga is available in five exterior colours – Snow White, Armour Silver, Jet Grey, Rosewood Maroon and Ruby Red.
It is now open for bookings online and at authorised Proton showrooms.
To find out more about the differences among the Saga variants, click on the Specifications link below.
>
2022 PROTON SAGA SPECIFICATIONS

Saga 1.3L Premium S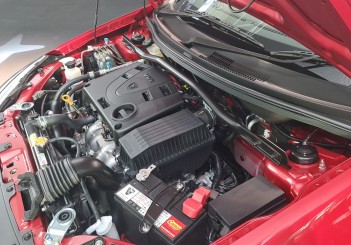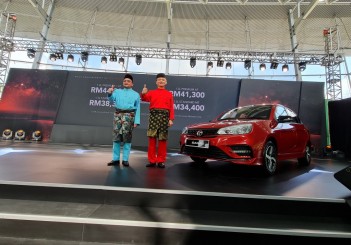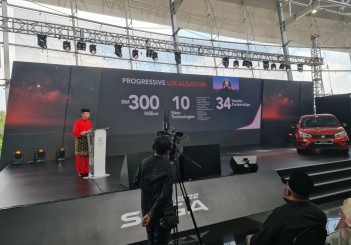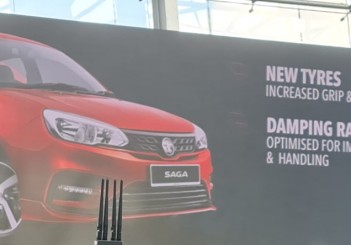 Other Saga variants (assorted)