PETALING JAYA: It was just over two months ago that Sime Darby Motors (SDM) Malaysia signed a
distribution agreement
with China's electric car maker BYD.
Both parties wasted little time with today's launch of the Atto 3 SUV, the first BYD model in Malaysia.
The Atto 3, known as Yuan Plus in its home market, is one of a handful of electric cars now available in Malaysia. It is the second electric car from China to be launched after Great Wall Motor's
Ora Good Cat
hatchback last month.
Pre-booking for the first 100 units of the Atto 3 had opened on Nov 29.
The Atto 3 is available in two variants: Standard Range at RM149,800 and Extended Range at RM167,800.
The Standard Range gets a 49.92 kWh battery, while the Extended Range model comes with a 60.48 kWh. Range is 410km (NEDC) and 480km respectively.
Both are front-wheel drive vehicles with an electric motor mounted in front, which produces 201hp/204PS and 310Nm of torque, good for a 0-100kph spint in 7.3s.
They use BYD's less bulky lithium-iron-phosphate (LFP) Blade batteries that the company said are far less susceptible to catching fire compared to conventional electric car batteries – even when they are severely damaged.
The Standard Range and Extended Range can handle up to 70kW and 80kW DC fast charging respectively. At 80kW, the SUV can be charged from 0-80% in 45 minutes. AC charging of up to 7kW is supported.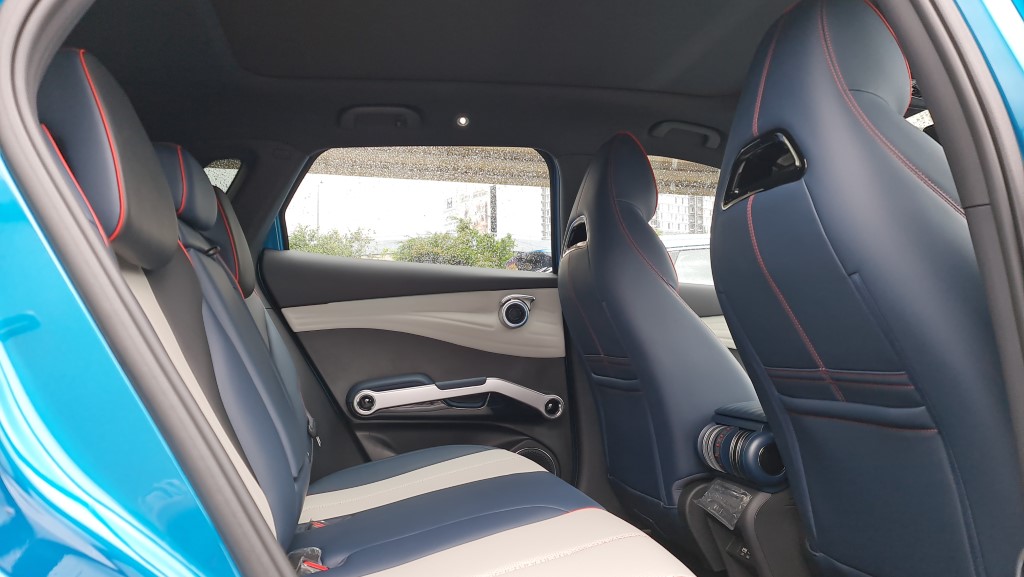 The Atto 3 is based on BYD's advanced e-platform 3.0, which supports a 400V architecture. It takes its name from a unit of time called the attosecond, which is a quintillionth of a second.
On paper, both variants are well specified, sharing a lot in common such as LED headlights and rear lights, panoramic sunroof, 12.8-inch rotating centre touchscreen, 360 degree view monitor, adaptive cruise control, automatic emergency braking, 6-way power adjustment for driver seat, synthetic leather seats, wireless Apple CarPlay and Android Auto (available from Q2, 2023), and portable card key.
Like the Hyundai Ioniq 5 (Plus and Max variants), both Atto 3 variants also get a Vehicle-to-Load feature, that lets the SUV serve as a giant powerbank to power other devices.
They are differentiated only by battery, DC charging rate, wheel size as well as a few fancy items on the equipment list. The top variant, for instance, is kitted up exclusively with a PM2.5 air filter, wireless phone charger, a different ambient lighting style and eight speakers.
Warranty-wise, an Atto 3 buyer gets six years or 150,000km on the vehicle itself. The Blade battery is backed by a warranty of eight years or 160,000km. What's more, the motor, motor controller, DC assembly and electric control assembly are covered for eight years or 150,000km.
Sime Darby Motors is sweetening the Atto 3 deal with a launch promotion package that offers for free a portable home charger and a V2L extension cable as well as RM1,000 worth of public charging credit.
First deliveries will be latter this month. Waiting period for the model is 3 months.
Sime Darby Motors is set to invest RM500mil over two years to set up 3S dealerships and expand the country's charging network.
The first dealership is slated to open by mid-December 2022 at TREC KL in Jalan Tun Razak, Kuala Lumpur. This will be followed by three more at Ara Damansara, Penang and Johor by the first half of 2023. The figure would be expanded to 20 by the end of 2023 and 40 by 2024.
As for local assembly, BYD said the matter is under study.
Minister of International Trade and Industry Tengku Datuk Seri Utama Zafrul Tengku Abdul Aziz launched the Atto 3 after the Vehicle Type Approval certificate for the model was symbolically handed over to Sime Darby Motors managing director Andrew Basham by Road Transport Department director-general Zailani Haji Hashim.
The launch event was held at Kuala Lumpur's Bandar Malaysia, a former Air Force base.
Also present were BYD Asia Pacific Auto Sales Division general manager Liu Xueliang, BYD Malaysia Sdn Bhd and PT. BYD Motor Indonesia managing director Eagle Zhao, Malaysian Automotive Association president Datuk Aishah Ahmad and Sime Darby Motors managing director of retail & distribution Jeffrey Gan.
To whet Malaysian appetite for BYD electric cars, the Dolphin and Seal models were previewed following the Atto 3 launch. Both models are expected to arrive in local showrooms in late 2023.
At present, the Atto 3 is available for public test-drives from Dec 9-11 at Bandar Malaysia. To book a test drive during that period or after, sign up at
https://byd.simedarbymotors.my/book-a-test-drive.
Short drive
Members of the media were given a chance to try out the Atto 3 following its launch.
There were at least over 20 units lined up, with all being the top variant.
The exterior certainly looks in trend with what is being offered out there and has a few styling flourishes to set it apart. It's in the roomy cabin that BYD designers have introduced some quirky bits - check out the "guitar strings" on the doors, the air-cond vents and door openers.
The rotating infotainment screen is innovative and we can only gather that BYD wanted to put some fun into the interior with their brand of creative flair.
The SUV offered a good and comfortable seating position. Acceleration, with some wheel spin on wet tarmac (it was drizzling at the time), was brisk but not pinned-in-the-seat impressive as better endowed EVs provide.
In the few minutes we had with the SUV, the ride was fine and the Atto 3 showed itself to be self assured in the slalom run. Brakes bite well to bring the vehicle to a quick stop even in the wet.
Safe to say, the short time with the Atto 3 left us with an urge to take it for a few days' jaunt to prod the breath of its capabilities. That will happen in due course.
READ MORE:
BYD has Tesla in its sights after a year of runaway growth