CHIBA: The GRMN Yaris are among several new cars Toyota Gazoo Racing (TGR) and Lexus are exhibiting at Tokyo Auto Salon 2022 here from today to Jan 16.
The GRMN Yaris is a fully tuned model of the GR Yaris that has gone through rigorous refinement with professional drivers.
Since its launch in September in 2020, the GR Yaris has been involved in various motorsports, such as the Super Taikyu Series.
The GR Yaris has been refined through "driver first" car development. Issues under extreme use conditions are identified through driver feedback and quickly resolved. Each car can be tailored to the driver to evolve into a safe and easy-to-drive vehicle.
Using lessons learned from motorsports competition, body rigidity has been enhanced, weight has been reduced by approximately 20 kg, overall width has been increased by 10 mm for aerodynamic improvement, and vehicle height has been reduced by 10 mm for a lower center of gravity.
Also, it uses mechanical LSD, a close-ratio gear transmission, and a low final gear set, which has been improved through repeated "breaking and fixing".
The GR Yaris has evolved into a car that can be driven faster and with more peace of mind, with improved braking force, grip, cornering and following performance based on feedback from professional drivers.
Additionally, through the two Update Program and Personalization Program services, Toyota will provide customers with "cars that evolve quickly and can be tailored to individuals" just like they are in motorsports.
Sales of a 500-unit limited edition model are expected to begin at GR Garages across Japan around summer 2022.
In addition to the basic grade, a Circuit Package focused on road performance based on feedback from the Super Taikyu will also be available. The Circuit Package is available in a special Matte Steel exterior colour and will be sold as a 50-unit limited edition.
Prices start from 7,317,000 yen (RM269,000).
GR GT3 Concept
TGR said it wants to further accelerate customer motorsports activities to make the world of motorsports sustainable. Hence, the GR GT3 Concept.
As was the case with the GR Yaris, by commercializing motorsports cars rather than simply adapting production vehicles for use in motorsports, TGR intends to use feedback and technologies refined through participation in various motorsports activities to develop both GT3 and mass-production cars and further promote making ever-better motorsports-bred cars.
bZ4X GR Sport Concept
Based on the bZ4X dedicated battery EV, the bZ4X GR Sport Concept delivers an elevated level of environmental performance and driving pleasure.
Large-diameter tyres, sports seats, and matte black exterior body panels are among the highlights of this concept vehicle.
NX PHEV Offroad Concept and ROV Concept
Lexus will display a one-third scale model of the Zivko Edge 540 V3 air race aircraft that Yoshihide Muroya of Lexus/Pathfinder Air Racing will pilot in the Air Race World Championship to be held this year.
Also joining the exhibit are the NX PHEV Offroad Concept and the ROV Concept-two concept vehicles that embody the brand's aspirations to realise a carbon-neutral society, expand customers' choices and lifestyles, and provide new values that exceed customers' expectations.
LX 600 "OFFROAD" JAOS version
JAOS Corporation and Lexus have teamed up to feature a new customized LX "OFFROAD" model.
The new LX, which has just gone on sale in Japan, offers a higher level of refinement, while maintaining its reliability, durability and off-road driving performance.
JAOS, set up in 1985, has been developing and offering 4WD & SUV parts.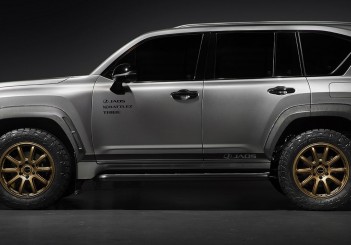 The two companies came together "to provide customers with an all-new experience."
The LX 600 "OFFROAD" JAOS version, based on the LX 600 "OFFROAD" model, combines the exclusive "OFFROAD" version's exterior design with JAOS's distinctive rugged customisation.
The exterior uses lightweight, high rigidity infusion-molded CFRP parts for the front and rear bumper skid protectors, as well as for the over fenders.
The vehicle also features specially developed 20-inch ENKEI-made wheels forged by "TEAM JAOS" through their participation in global rally raids.
GR Heritage Parts Project
The GR Heritage Parts Project aims to reproduce discontinued replacement parts for sale as new genuine parts.
On display at the show is a selection of reproduced parts slated for release in 2022 for the A70 Supra, A80 Supra, Toyota 2000GT, Land Cruiser 40 series, and AE86 Corolla Levin/Sprinter Trueno.