Before it was realised, the petrol engine was already working to power the
Hyundai Ioniq HEV Plus
up to a cruising speed of 110kph along the PLUS highway - slipping past the senses and charging up the lithium-ion battery.
It's quiet and comfortable on the inside as the car slices through the wind with its class-leading low drag efficiency of 0.24Cd.
Not to mention, Hyundai's hybrid that's priced on-the-road with GST and insurance at RM117,429, also has a "peppy" throttle when in sport mode.
Depending on how heavy that right foot is, the Ioniq will move with silent grace or with engine-screaming haste, but either way the trip computer displays 1,000km of range after having just filled up on a full tank of petrol.
Inside, the cabin has an adequate amount of room to accommodate a few tall friends and their lanky legs, only the 488-litre boot seem to have a slight restriction on height.
But what annoyed the most was that the Ioniq had no proper place to stow a hazard triangle anywhere within the boot and was instead left to freely slip and slide about.
Visually, the Ioniq doesn't seem much to look at, only that it's somewhat wedge-like and is often-times equated to being a Toyota Prius trapped within a Honda Insight.
Aside from its case of mistaken identity, it's very much "K-Pop" under the sheet-metal with those familiar to the brand finding it easy to acclimatise to the cabin's features and fixtures.
It's fairly inviting inside, with an animated instrument cluster, cool blue ambient lighting and seats that look well-bolstered.
Under the hood, this 1,477kg (kerb) of South Korean pride and joy has married a six-speed dual-clutch gearbox to a 1.6-litre (1,580cc) Atkinson-cycle Gasoline Direct Injection (GDI) engine to provide 105hp at 5,700rpm and 147Nm of torque at 4,000rpm.
Additionally, there's also a 43hp / 170Nm electric motor that takes care of the car's inertia and can go onwards to a top speed of 40kph while feeding off a 1.56kWh lithium-ion polymer battery with 42kW of output hidden beneath the rear bench.
Upon 'unifying' both petrol and electric motors, the estimated total system output comes to 139hp and 264Nm, and gets sent to the 17-inch front wheels with 225/45 series tyres.
The interior is readily identifiable as belonging to the Hyundai family and the seats are somewhat comfortable as long as you don't mind the slight lack of suppleness, but at least they are supportive.
The driver's seat is the only one that gets 10-way power adjustability along with a sporty steering wheel that's not too girthy for more petite fingers to wrap around.
On the highway, the steering wheel's weight will increase for a more sportier feel, and to make things a little more interesting, turning on the smart cruise control will have most drivers instantly spoilt as the car automatically keeps a safe distance from the vehicle in front.
After coming to a full stop, the driver will need to significantly raise their left knee in order to get to the foot-actuated parking brake, something to note for the ladies in skirts.
But, at least after that it's shut the door behind you, press that black button on the door handle to secure the car and walk away.
Just repeat the process in reverse upon returning, get in, push that big blue button on the left of the steering wheel and away we go.
The inclusion of a wireless charging pad does well to keep appearances clean and uncluttered, while a multifunctional centre storage console (where the centre arm rest is located) is able to fit a tablet, laptop or something more analogue like an A4-sized file.
In city traffic, the Ioniq is both responsive and zippy, but floor the throttle and the engine will be wailing and straining to give what's being asked, but when moving off from standstill, the 1.6-litre GDI (Gasoline Direct Injection) engine seems to have quite a bit of "pep".
When transitioning from electric mode to petrol, it's nearly impossible to detect when that happens with nary a judder of some sort - it's almost seamless, just like how its lightning-quick dual-clutch transmission performs throughout the rev-range.
Rear-seated passengers will definitely rejoice to the supple ride it offers, as well as the rear air-conditioning vents and accommodating rear leg room.
The front suspension is communicative and relatively firm - able to hold its traction well, only the rear is the polar opposite.
It's comfortably pliant at the rear and able to soak up any of the road's misgivings, but when at mid-corner, it'll waddle over uneven surfaces, give drivers the silent treatment and leave them nervously guessing about where the grip levels are.
At least the brakes seem to have a decent amount of bite to them with a direct feel.
However, switching to sport mode won't help improve the handling situation, because all that's being done is getting both petrol engine and electric motor to supply their combined outputs.
Meanwhile, the instrument cluster changes from simple speedometer to sporty red-ringed rev-counter with a digital speed indicator in the centre.
The Ioniq is something that's of typical hybrid cars, only it's got a touch of sportiness that its rear-end can't seem to handle very well but only to a certain degree - beyond that might mean heading into crash-test territory.
Aside from such misgivings, as long as the car is confined to legal speed limits, it'll do just fine while bringing about some joy with its zippy nature, comfortable cabin and that insane amount of range on a full tank, which might just enable new owners to average-up or down their fuel costs now that it's on a weekly float.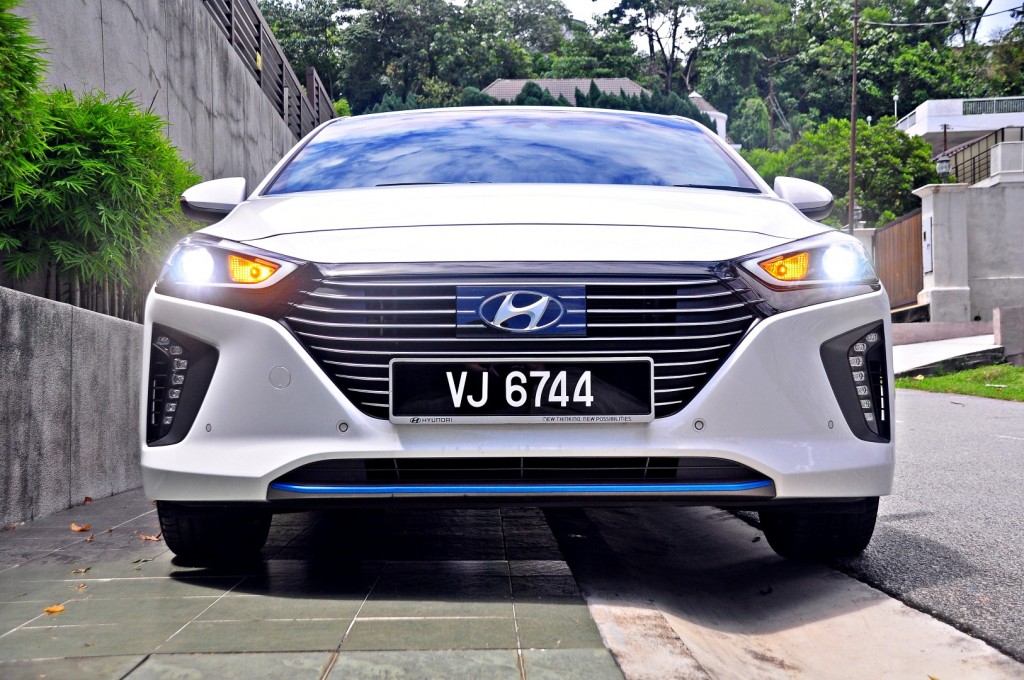 SPECIFICATIONS - Hyundai Ioniq Hev Plus

Engine: 1,580cc, Kappa Atkinson Gasoline Direct Injection
Max power: 105PS at 5,700rpm
Max torque: 147Nm at 4,000rpm
Transmission: Six-speed dual-clutch transmission
Fuel tank: 45 litres
Electric motor: Permanent magnet synchronous-type
Maximum power: 32kW
Maximum torque: 170Nm
Battery: 1.56kWh Lithium Ion
Polymer Power output: 42kW
Voltage: 240V
Combined system output (estimated):
Maximum power: 139hp
Maximum torque: 264Nm
Features: Seven airbags, anti-lock braking system, brake assist, electronic stability assist, vehicle stability management, hill-start assist, blind spot detection, lane keeping assist, autonomous emergency braking, smart cruise control, automatic HID Bi-Xenon, automatic wipers, LED front / rear / daytime running lights, chrome door handles, electric folding mirrors, leather seats, eight-way powered seats with two-way lumbar support, electrochromic rear view mirror, 7.0-inch LCD digital cluster, dual-zone climate controls, rear air vents, 7.0-inch LCD audio system with radio / CD / MP3 playback, USB and AUX ports, reverse camera, Bluetooth connectivity, keyless entry with push-start button, wireless charging pad, park assist, tyre pressure monitoring system, blind spot assist, lane keeping assist, bee-sting antenna, 17-inch wheels with 225/45 series tyres.
Price (OTR with GST and insurance): RM117,429