Isuzu Malaysia managing director and chief executive officer Shunsuke Okazoe (fourth from left) and Murata with the new Giga trucks in the background.
PETALING JAYA: Most Malaysians know the Isuzu brand for its D-Max pick-up truck, which is part of its light commercial vehicle range.
But it's also active in the segment known simply as commercial vehicles, of which its Elf, Forward and Giga trucks have been available in Malaysia since 2014, representing respectively the light duty, medium duty and heavy duty & prime mover offerings from the Japanese truck maker.
The Yokohama-based company today launched its new generation of Giga trucks in Malaysia, introducing five new models.
They include the "C" and "E" series, which are CYZ420 rigid truck with 7-speed manual transmission and the EXR420 4x2 and EXZ460 6x4 prime movers, both of which are available either with a 16-speed manual transmission or an automated manual transmission (AMT) for smoother gear changes.
The new trucks feature improved efficiency, safety and comfort, and is also an attempt by the company to take some market share from the top tier European truck manufacturers such as Daimler, Volvo, Traton (MAN and Scania) and Iveco.
Isuzu Malaysia said Malaysia is the first country in South-East Asia and only the third country globally after Japan and China to get the new Giga trucks, underscoring the importance of the local market.
The new Giga trucks are the first full model change since Isuzu launched the first generation in 1994 in Japan.
The new design is inspired by the Japanese concept of "Meri Hari", which means creating and achieving balance and harmony.
Through this concept, Isuzu said the new Giga trucks offer a balance between toughness and power with that of comfort and economy by
embodying strength and innovation on the cab exterior and optimised functionality, comfort, and spaciousness in the cab interior.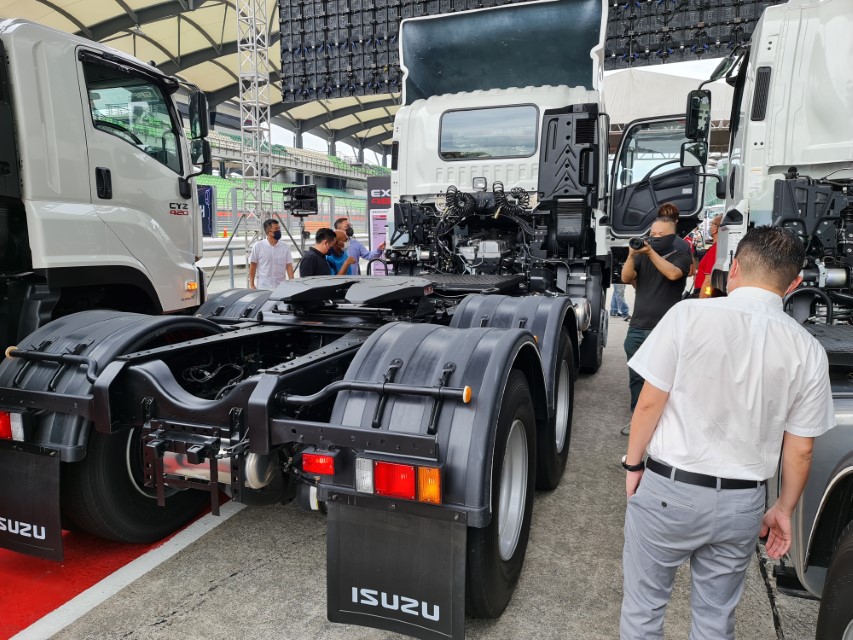 The new Giga range comes with higher power and performance to better meet demanding operations for the construction, heavy haulage and bulk delivery industries.
Power and performance come from Euro 3 standard 15.6-litre 6WG1 engines making 420hp and 460hp.
The new Giga trucks promise greater efficiency and serviceability to ensure maximum uptime and productivity for business operators.
For maximum safety, the trucks are also equipped with the Isuzu Safety Plus platform which offer key safety features including anti-lock braking system, driver airbag and brakes override accelerator. Isuzu adds that Safety Plus is offered only on selected models.
The cab shape has been redesigned into a cubic form to achieve the best-in-class aerodynamics which significantly reduces the coefficient of drag for better cooling performance, safer journey, and lower fuel usage.
The cab interior features European standards of ergonomic design that translated to spaciousness, driver-friendly features and increased comfort.
One of the key features for a prime mover is the driver seat; the Giga comes with one with an integrated seat belt made by German company Isringhausen.
The seat is said to provide excellent comfort and is equipped with various features including seat warmer and cooling ventilation, and other adjustments such as tilt and recline angles as well as shoulder and lumbar support to better fit different body shapes and individual preferences.
The dashboard is fitted with a 4-inch LCD multi-information display meter, which displays important information to the driver such as driver aids and transmission status.
This multi-information display meter and cruise control can also be operated via the steering wheel, which now comes with switches. This is a new feature in Isuzu trucks that can improve operability and safety while driving.
"Isuzu's motivation for introducing the new Giga trucks is driven by our commitment to offer wider and improved truck options for our customers who are increasingly demanding more efficiency in a highly competitive landscape," said Isuzu Malaysia chief operating officer
Atsunori Murata
at the launch, which took place at the Sepang racing circuit.